How do I enter new standard (and/or control) concentrations for each new lot of Soft Drink Analysis 4 Component Standard (WAT036889) into my Breeze software? - WKB198554
Last updated
OBJECTIVE or GOAL
Modify the amount (concentration) of each standard within the Soft Drink Analysis 4 Component Standard in Breeze software.
ENVIRONMENT
Breeze
HPLC
Soft Drink Analysis
PROCEDURE
1. Soft Drink Standards come with a certificate of analysis as shown:
2. Input correct values as follows: Highlight "standard" and/or "control", and from the "Tools" drop-down menu select "alter sample".
3. The "alter sample" dialog box appears. Highlight the standard and control and click on the "amounts" tab as shown.
4. The component editor dialog box appears. Click "components", input the certified amounts as shown, and then click OK.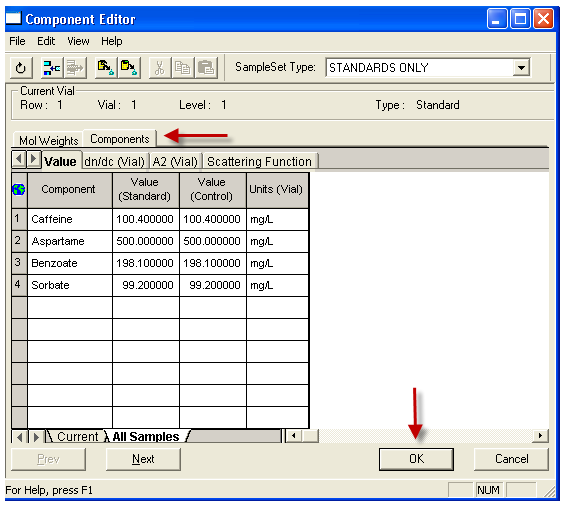 5. The "component editor" dialog box disappears, leaving the "alter sample" box. Click "file", and then save the standard and control as shown.
6. Close the "alter sample" box, and then "update" the standard and control as shown.
7. Under "Tools", "Process" the standard, control, and product samples. Ensure that "clear calibration" is selected.
8. Breeze software calculates the product amounts using the certified standard amounts specified. In Review, ensure that these standard values are correct for the standard chromatogram as shown.