How to cycle the injection valve during an injection using the ACQUITY Sample Manager - WKB9108
Last updated
OBJECTIVE or GOAL
Cycle the injection valve to flush out any sample remaining in the valve or in the loop during an injection using the ACQUITY Sample Manager. This can help reduce carryover when running in the Partial Loop Needle Overfill (PLNO) injection mode.
ENVIRONMENT
ACQUITY UPLC Sample Manager
ACQUITY I-Class SM-FL
MassLynx
Empower
Introduced in June 2011 Driver Pack (ICS 1.50)
PROCEDURE
Open the Inlet/Instrument method.
Click Autosampler.
Click the Events tab.
Ensure that Run Events is selected.
Specify a time during the high organic flush, toward the end of the gradient.
Note: Allow approximately two seconds for the double-click, and allow a volume of high organic flush that is sufficient to thoroughly rinse the column before the end of the gradient.
Select Cycle Inject Valve in the Event column.
Save the method.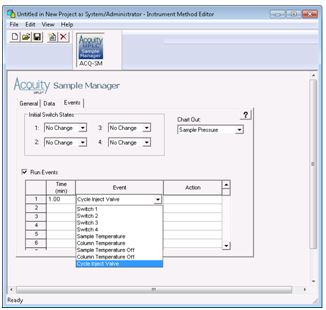 ADDITIONAL INFORMATION
Choose a time during the gradient that does not interfere with chromatography.

If required, you can program multiple cycle inject valve timed events.
Excessive valve cycling can reduce valve life.
This function only has an appreciable impact on carryover when using the default

Partial Loop Needle Overfill (PLNO) injection mode. It has no significant effect on carryover when using the Partial Loop Pressure Assist (PLPA) injection mode.

For more information, refer to KCS Article

What is the 'Double-Click' method for I-Class SM-FL? - WKB13176