"Generic Instrument COM Server" error 800401F3 when starting data acquisition in MassLynx for ACQUITY Arc with PDA - WKB20933
Last updated
SYMPTOMS
Error message when starting acquisition:
Waters Generic Instrument COM Server.
Detector Method Getting CLSID failed with error 800401F3
Invalid class string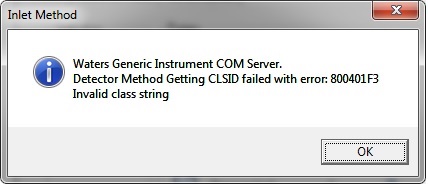 ENVIRONMENT
ACQUITY Arc system
ACQUITY Arc 2998 PDA detector
MassLynx SCN 925
CAUSE
ACQUITY Arc 2998 PDA detector incorrectly configured as "ACQUITY PDA"
FIX or WORKAROUND
Ensure that the detector is configured as "2998" in the inlet editor.
ADDITIONAL INFORMATION
When scanning for instruments, the Arc 2998 is found and can be selected and controlled, even when incorrectly configured as ACQUITY PDA. The error message appears only when starting an acquisition.