How to drag & drop channels of data into an open Review window - WKB50367
Last updated
OBJECTIVE or GOAL
Have you ever had the need to bring additional channels of data into Review while it is already open? Do you close Review, select the additional channels and then reopen it? There's an easy solution and it can be done in both the Pro interface and the QuickStart interface.
PROCEDURE
For our first example, let's use the Pro Interface.
We start out in Review with a channel of data, for a standard, already displayed. Make sure the 2D Channels tab is selected.
Click on the icon for the project to bring it to the foreground, then size it so you can see the Review window in the background (Figure 2). Click on another channel of data, in this case a sample, and drag it to the 2D Channels table in Review.
Once you let go of the mouse, the new channel of data appears in the chromatogram view – it's that easy.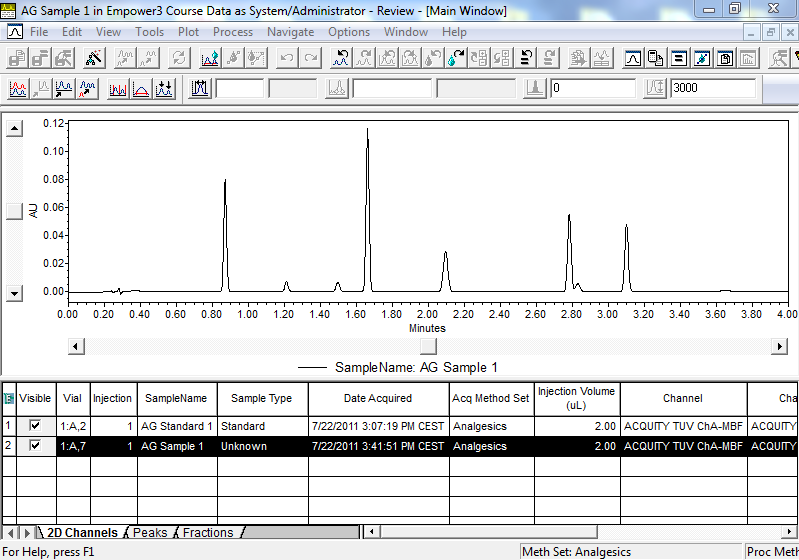 Now let's use the QuickStart Interface.
Once again the Review Data Main Window already displays a channel of data.
Click Browse Project in the Navigation Bar and select the Channels tab.
Highlight the channel of data you want to bring to Review and click View Data in the Navigation Bar.
When the Replace or Append dialog box opens, click NO to append the new data to the current data.
The new channel of data appears in the chromatogram view. If you click the 2D Channels tab, the information for both channels is listed.
ADDITIONAL INFORMATION
Once you have brought the second channel of data into Review, you can do the typical things such as overlaying the chromatograms.
This will work with 3D data as well. Remember to click the 3D Channels tab before you drag and drop the channel into Review.
You must have the Copy to Projects privilege to carry out this task.