How to save an instrument method with a method set - WKB50271
Last updated
OBJECTIVE or GOAL
To inject a sample or run a Sample Set Method, we need a Method Set which contains an Instrument Method. This article will discuss how to save an instrument method within a method set.
PROCEDURE
From the Pro Interface select Browse Projects.
Select a project from the list and click OK.
Select the Methods tab.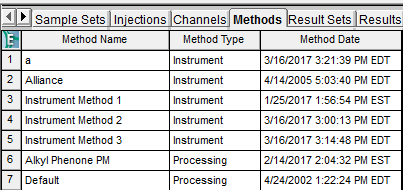 Right-click in the table and select New Method, Instrument Method.
If you have more than one chromatography system, select the one you wish to create the new Instrument Method for and click OK.
Enter the parameters for the new Instrument Method. From the File menu, select Save with Method Set.
Enter a name for the new Instrument Method, any pertinent comments and click Save.
Empower then prompts you to enter a name for the Method Set. Enter the name, any pertinent comments, and click Save.
We now see the new instrument Method and Method Set in the Methods table.

You can also do this from the Run Samples window by clicking Edit under the Instrument Method field and following steps 6 through 9 outlined above.
ADDITIONAL INFORMATION
You must log into Empower with the Pro Interface to take advantage of this feature.