How to use events to switch valve positions on the ACQUITY Column Manager - Active in advanced mode - WKB3148
Last updated
OBJECTIVE or GOAL
Configure the timing for switching the valve position during run using the Empower instrument method for the Column Manager - Active.
ENVIRONMENT
ACQUITY H-Class Column Manager - Active (CM-A)
Empower
PROCEDURE
1. The instrument module must be configured in the Advanced mode in the console.
Note: This example assumes that the installed valve is 8-position, 9-port. It is possible to configure a 2-position, 6-port valve if that type is installed.
2. Cycle power to the CM-A. Exit Empower in order to refresh Run Samples.
3. Open the column manager instrument method and select Advanced mode.
4. Click on the Events tab.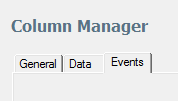 5. Select Run Events, and add lines to the table (see below), choosing a time, event, and action for each.
6. Once the table is filled out, save the instrument method.
NOTE: If there are any questions about which event position corresponds to which physical valve position, click on this button:

Clicking the help button brings up this table: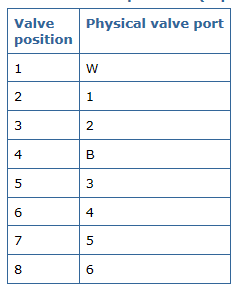 ADDITIONAL INFORMATION
A-30MCM, UPCMA, UPCMAIVD, UPIBSM, UPIBSM+, UPISMFL, UPISMFL+, UPISMFTIVD, UPISMFTN, UPISMFTN+, UPPCMA, UPQSM, UPQSM+, UPQSMBIO, UPQSMBIO+, UPSMFTN, UPSMFTN+, UPSMFTNB+, UPSMFTNBIO