Empower 3 Agilent LC ICF support: Instrument failure without other information - ISET deactivated - WKB19246
Last updated
SYMPTOMS
Agilent LC control by Empower 3 with Agilent Driver ICF Support: "Instrument failure without other . . ." error message
ENVIRONMENT
Empower 3
Agilent ICF Support 2.1 H1
Agilent ICF Support 2.2
CAUSE
Agilent ISET (Intelligent System Emulation Technology) is deactivated on the pump module.
To verify that this is the issue, create a new instrument method from run samples and go to the Instrument Configuration tab.
Select the pump and press the "Configure" button.
If "ISET installed" is selected, in the control panel of the pump, you must have an ISET icon.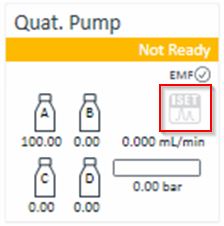 If not, go to the resolution section or activate ISET on the pump module.
FIX or WORKAROUND
Run Agilent preconfigurator from Configuration Manager Tools/Agilent PreConfiguration or on the Acquisition node in the folder C:\Empower\Instrument\fAgilentLC.
Press the Clear button.
Select Agilent 1100/1200/1260/1290 LC, and then click the Auto Configure button.
Enter IP address of the Agilent LC
Check the configuration (click the Configure button for each module).
Try again to launch a sample in Run Samples.
ADDITIONAL INFORMATION
ISET option has a free period for testing and is deactivated automatically after this period (700 hours). Consequently, the issue can arise without any changes in the instrument method from one day to another day.