How to read the energy value of a 2489 or 2487 detector - WKB65958
Last updated
OBJECTIVE or GOAL
Read the energy value of a 2489 or 2487 detector.
ENVIRONMENT
2487 Dual-Wavelength Absorbance Detector
2489 UV/Vis Detector
PROCEDURE
Click the DIAG button when methanol flows through the flow cell.
Select "2 Sample & ref energy".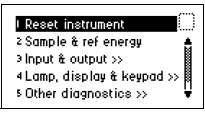 Note the Sample and Ref energies.
ADDITIONAL INFORMATION
There are no official recommended minimum energy levels. The requirement is to be able to pass start-up diagnostics when powered on and pass the wavelength verification as noted in the PM protocol.
Sample energy should be at least 70% of Reference energy.