Sample Manager "column door open while running" message - WKB622
Last updated
SYMPTOMS
Sample Manager produces an error message "column x door open while running" and stops the run.
Active preheater does not achieve the programmed set point temperature for the selected column
ENVIRONMENT
H-Class Column Manager-Active
I-Class Column Manager-Active
CAUSE
The magnet on the internal cover is missing.
FIX or WORKAROUND
Replace the magnet or replace column trough cover assembly.

Part number 410003267 for the magnet
Part number 700005439 for the Column Module Front Trough Cover
ADDITIONAL INFORMATION
The magnet is located on the column trough cover. The read sensor is located within the dual column trough assembly.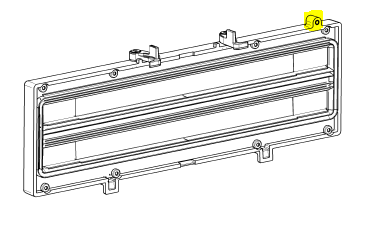 Closing the compartment trough cover engages a magnet switch that turns on the 24V to the active preheater.
The active preheater operates at the set point temperature of the selected column position when the trough compartment cover is closed.
APH, UPIBSM, UPIBSM+, UPISMFL, UPISMFL+, UPISMFTIVD, UPISMFTN, UPISMFTN+, UPQSM, UPQSM+, UPQSMBIO, UPQSMBIO+, UPSMFTN, UPSMFTN+, UPSMFTNB+, UPSMFTNBIO