How to tighten the 3-piece fitting on the Active Pre-heater? - WKB2941
Last updated
OBJECTIVE or GOAL
How to tighten the 3-Piece Fitting in the Active Preheater (APH) Assembly.

When installing a column on an ACQUITY active column heater module or active column manager using the APH.
PROCEDURE
Loosen the stainless steel cap nut from the gold fitting.
Finger-tighten the gold fitting with ferrule into the column detail.
Replace the PEEK ferrule if making a new connection to a column.
Holding the column hardware, rotate the column onto the gold fitting.
Finger-tighetn the gold fitting, do not use a wrench. (Using a wrench could damage the Active Pre-Heater Assymbly)
Finger-tighten the stainless steel cap nut onto the gold fitting.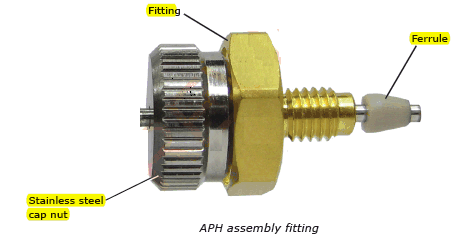 ADDITIONAL INFORMATION
Fittings that can be replaced are the 1/16 PEEK ferrule and gold compression screw:

700003114 for the FERRULE, PEEK, 1/16, HPFT

410003354 for the Locking Compression Screw, HEX GOLD

The stainless steel cap between the APH cartridge and pre-swaged seat/ferrule cannot be replaced.
UPARBCH30, UPC2CMAUX, UPCH30, UPCH30A, UPCHA, UPCHAIVD, UPCMA, UPCMAIVD, UPCMAUX, UPIBSM, UPIBSM+, UPISMFL, UPISMFL+, UPISMFTIVD, UPISMFTN, UPISMFTN+, UPPCHA, UPPCMA, UPPCMAUX, UPQSM, UPQSM+, UPQSMBIO, UPQSMBIO+, UPSMFTN, UPSMFTN+, UPSMFTNB+, UPSMFTNBIO