UNIFI startup method repeats startup method priming - WKB98163
Last updated
SYMPTOMS
Startup method is enabled in device management
Startup is initialized either from

the console
the side panel when the system is in maintenance or error
ENVIRONMENT
UNIFI 1.9.9
UNIFI 1.9.4
UNIFI 1.8.2
CAUSE
When selecting startup to ready and the system startup status is in an error or maintenance state, ex: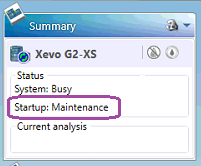 the system must pass through the standby state before going to the ready state. So startup to standby priming (method parameters) will be completed before startup to ready priming (method parameters). This is observed as the priming repeating itself.
In the case of running startup from the console, this should not be done when the startup method in device management is enabled because it will run both startup programs if the instrument startup status is not already in a ready state. Depending on the startup state, if startup is initiated from the console and there is priming programmed in the startup to standby and the startup to ready sections of the startup method, then it is possible to observe 3 cycles of priming.
FIX or WORKAROUND
Only program priming,etc in the startup to ready section of the startup method in the device management (do not program any priming for startup to standby).
ADDITIONAL INFORMATION
For additional information see the attached UNIFI help file.