No quantitation results in UNIFI - WKB7280
Last updated
SYMPTOMS
In UNIFI, the internal standard is found but there is no calibration curve and no quantitation results after processing.
CAUSE
The level is not set in the components table and/or in the sample list.
FIX or WORKAROUND
Go to the analysis method and select the Expected Components > Default Amounts button.
Set the levels for each of the components.
For the Internal Standard, create an unknown level for which the internal standard amount is known but nothing else. To create the unknown level, hit the Add button.
On the left, select Manage Components.
Ensure that the internal standard is defined or selected in the Internal Standard? column.
In the "Use internal standard" column, select the internal standards for all other components. (If a column is not visible, right-click on the column header and select Add Columns.... Find the column head you want and add it to the right window using the right arrow.)

Save or update the analysis method.
Go to the analysis, select Edit in the top-right corner, and select Sample Information.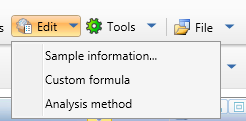 Using the drop-down list, select the level or unknown for each sample.
Click OK to save the changes.
Process the data.