Error "Reading DAO SampleList: Cannot open database" when attempting to open a MassLynx sample list - WKB13798
Last updated
SYMPTOMS
When opening a sample list, the following error appears: Reading DAO SampleList - Cannot open database (see screenshot below)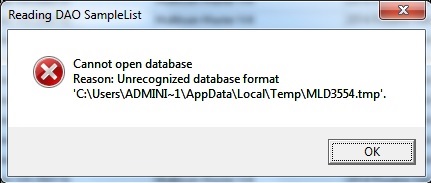 CAUSE
A TargetLynx file is mistakenly saved with the .spl file extension. This occurred because the TargetLynx file and the Sample List file are stored in the same folder and have the same name.
FIX or WORKAROUND
When saving the TargetLynx file, save it with a different name than the sample list file, or do not select the file with the spl file extension. When prompted to overwrite a file, select No and save with a different file name. Create a new sample list file from scratch, enter or copy in the appropriate content, and save it as a new .spl file. Use this file to access the desired data set.
ADDITIONAL INFORMATION
You can avoid this issue by keeping sample list files in a dedicated folder, and by paying attention to file extensions when saving files.