How to create a project raw data path in Empower - WKB66673
Last updated
OBJECTIVE or GOAL
Create a project raw data path.
ENVIRONMENT
Empower 1
Empower 2
Empower 3
PROCEDURE
Configuration Manager > View > Manage Raw Data Files....
Click "Add Raw Data Path", browse a new path, and then click OK.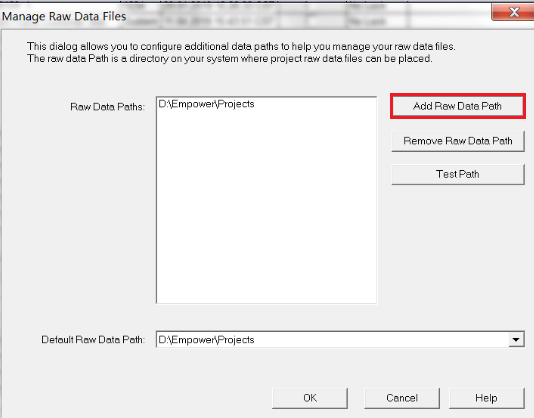 Create a new project, and then you can set the new project into the new path.
ADDITIONAL INFORMATION
id66673, EMP2LIC, EMP2OPT, EMP2SW, EMP3GC, EMP3LIC, EMP3OPT, EMP3SW, EMPGC, EMPGPC, EMPLIC, EMPOWER2, EMPOWER3, EMPSW, SUP