Using a sample set template in Empower, the populated plates are not sequential - WKB5815
Last updated
SYMPTOMS
The sample set bypasses plate 2 when populating the sample set
ENVIRONMENT
Empower 3
Dissolution option
Sample set template
ACQUITY H-Class with Sample Organizer
CAUSE
The defined default plate configuration was out of sequence when the sample set template was created.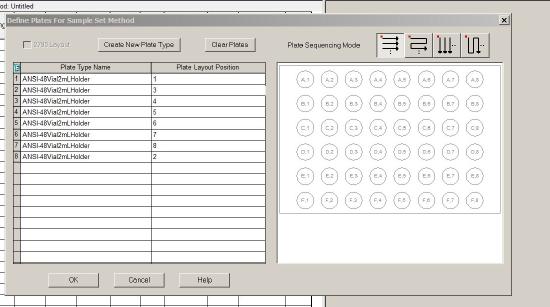 FIX or WORKAROUND
Correct the defined plate configuration: From the Run Samples window, select Customize > Defaults > Plates. Select Define, and then select the plate being used. (Tip: If using standard plates, select ANSI-48Vial2mLHolder for each plate position.) Select OK > OK.
Select File > Save preferences.
Create a new sample set template.
ADDITIONAL INFORMATION
EMP2LIC, EMP2OPT, EMP2SW, EMP3GC, EMP3LIC, EMP3OPT, EMP3SW, EMPGC, EMPGPC, EMPLIC, EMPOWER2, EMPOWER3, EMPSW, SUP, UPQSM, UPQSM+, UPQSMBIO, UPQSMBIO+, UPSMFTN, UPSMFTN+, UPSMFTNB+, UPSMFTNBIO