How to set up plate configuration in Empower - WKB534
Last updated
OBJECTIVE or GOAL
How to set up plate configuration in Empower
Change the plate format from V1 to 1:A,1 format for ACQUITY UPLC
ENVIRONMENT
Empower 2
Empower 3
ACQUITY UPLC
PROCEDURE
---
In Run Samples, select the plate icon

Uncheck the 2790 layout

Click under "Plate Type Name" and choose the plate type you need from the dropdown list. Make sure it says ANSI, example ANSI-48Vial2mL holder

In the second cell on the same row enter the plate layout position if needed

Then click on A,1 on the right side and click on Insert , then click on OK.

The vial column in the Run samples window now changes from vial to plate/well, Example 1:A,1

If the same plate is needed every time you open run samples, go to Customize | Defaults | Plates Define button and set it up in the same File | Save Preferences doesn't save the plate settings for every time you open run samples
See screen shot below :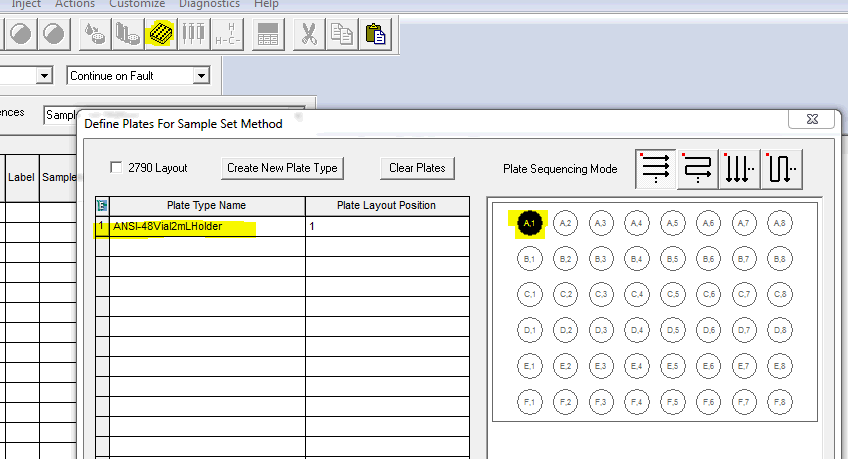 ADDITIONAL INFORMATION
When selecting the vial locations on the right hand side of the plate, select the amount of vials that will be run in the sequence. If the amount of vials may vary, you can select all vial locations.
If not there are more vials listed in the sample set than defined in the plate, an error may occur such as "there is not enough vials in the system to complete the sample set as specified".