When creating a view filter for the System Audit Trail in Empower, there is no choice to filter by the Action "Project Integrity Successful" or "Project Integrity Failed" - WKB5216
Last updated
SYMPTOMS
There is no choice for "Project Integrity Successful" in the Action field to filter.
FIX or WORKAROUND
Workaround Create a Just-In-Time View Filter
From the View Filter Editor, select File > New to open a blank View Filter table.
When prompted to use the View Filter Wizard, click No.
From the Type list, select Audit Trails.
Result: The Field Names list displays sample identifier names available for Methods view filters.
In the Field Names list, double-click these possible sample identifiers in the Field Names list to add them as columns to the table, and do the same for the Type column header:
Action
Change Date
Database ID
Details
Misc
Sequence
User
5. Right-click the Action column header, and then click Ascend.
6. Create the first variable search criterion:
Click the first cell in the Action column and choose =# from the list (the # character triggers a user prompt for a method type when the filter is applied).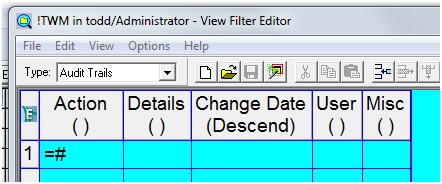 7. Click File > Save.
In the Save Current View Filter dialog box, type a name for the JIT view filter, and then click Save.
Tip: Saving the JIT view filter from the View Filter Editor saves the filter as a temporary view filter (a variable filter that prompts you for search criteria input whenever you apply it). After determining final search criteria, you can also save the JIT view filter as a standard view filter.
9. When finished, click File > Exit.
10. Select the Saved Filter.
There is now a pop-up window "Select Audit Trail using (Name of the Filter)", where "Project Integrity Successful" and "Project Integrity Failed" is in the Action dropdown list.
ADDITIONAL INFORMATION
In the Empower Help (F1), search for Creating Just-in-Time View Filter.