ORA-12514 Database Connection Failed error message - WKB461
Last updated
SYMPTOMS
When logging into Empower, an error message appears saying Database Connection Failed ORA-12514: TNS:listener does not currently know of service requested in connect descriptor.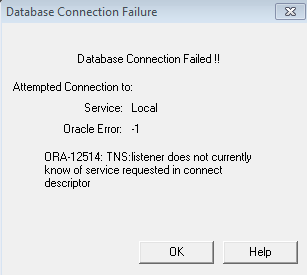 ENVIRONMENT
Empower 3 SR1 FR 2, personal workstation
FIX or WORKAROUND
On your PC, go to Start | Control Panel | Administrative Tools | Services.
Stop and Start the OracleServiceEMPOWER service and the OracleEmpower11g_2TNSListener service.
Log into Empower again.
ADDITIONAL INFORMATION