ORA-12514 Database Connection Failed error message - WKB461
Last updated
SYMPTOMS
Unable to log in to Empower
When logging into Empower, an error message appears saying Database Connection Failed ORA-12514: TNS:listener does not currently know of service requested in connect descriptor.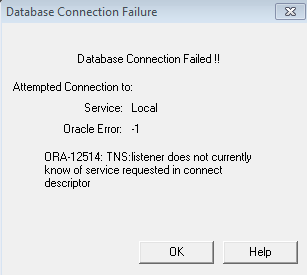 FIX or WORKAROUND
On your PC or Database server if it's Enterprise, go to Start | Control Panel | Administrative Tools | Services.
Stop and Start the service OracleEmpower xx_2TNSListener and the OracleServiceEMPOWER service, in that order ( xx = number based on the version you have)
Log into Empower again.
ADDITIONAL INFORMATION
Check that there is plenty of free space available on the hard drive(s). If Oracle runs out of space, it can generate this error. The Oracle alert log may log an out of space error as well. Rebooting the PC will accomplish the same fix.
EMP2LIC, EMP2OPT, EMP2SW, EMP3GC, EMP3LIC, EMP3OPT, EMP3SW, EMPGC, EMPGPC, EMPLIC, EMPOWER2, EMPOWER3, EMPSW, SUP