How to take child projects from different parent projects into Global View and compare them - WKB1101
Last updated
OBJECTIVE or GOAL
Open multiple child projects from different parent projects into the Global View window.
PROCEDURE
Open Configure System and highlight "Projects" on the left side of the window.
Highlight two projects on the right side of the window. It does not matter which two, as this is only used to open the Global View window.
Right-click the highlighted projects and click Open to open the Global View window.
At the top of this window, click View, and then hover your mouse over Toolbars. When the menu pops up, select Projects Available to open a pop-up window showing all available projects.
You can open or close projects in the Global Projects view.
Select the channel or result you want to compare, right-click Compare.
There are different ways we can compare our results. Start by clicking the Overlay tool and the two chromatograms are overlaid in one plot.
Since these two samples were run under different chromatographic conditions, it is difficult to compare them in one plot so let's make it more user friendly. Right-click in the plot and select Properties.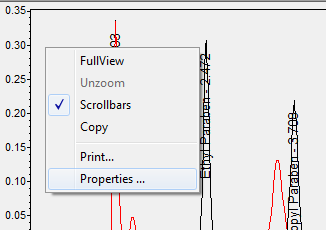 Go to the Overlay tab and under Overlay Type select Make Stack Plot and under Chromatogram Annotation select 'All Chroms' in Overlay. Now we can compare the chromatograms in a more useful way.
Additionally we can look at the peak information for each result by clicking on the Peaks tab in the lower left corner. Click on the baseline for the chromatogram of interest and the associated peak information appears.