How to stop the flow for an overnight run (set up a shutdown method) in MassLynx - WKB26741
Last updated
OBJECTIVE or GOAL
Stop the LC flow after a batch in MassLynx (run a shutdown method).
PROCEDURE
In the main MassLynx window, select the shutdown settings in the bottom-right corner of the MassLynx page where it says shutdown disabled. Alternatively, go to the instrument tab in the MassLynx window and select Edit Shutdown or Startup.
Open an existing shutdown method (.acl file) or create a new one.
Go to the Auto Control Tasks and edit the tasks as desired.
Save the shutdown method.
On the shutdown tab, select "Enable shutdown after batch".
Select Browse to pull in the shutdown method.
Select how long to wait after a batch before running the shutdown method.
Select save and close out of the window.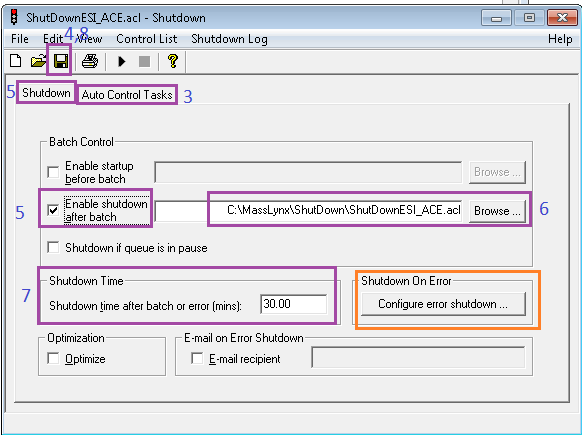 ADDITIONAL INFORMATION
If desired, the same shutdown method can be used for error shutdown. In the shutdown method editor on the shutdown tab, select "Configure error shutdown." Enable and browse in the shutdown method for the errors.