How to perform the ACQUITY UPLC H-Class needle seal readiness test - WKB99826
Last updated
OBJECTIVE or GOAL
Understand the procedure for performing the ACQUITY UPLC H-Class Needle Seal Preparation Test
In the event of poor FTN reproducibility, check for needle seal leaks if the syringe leak test is normal.
ENVIRONMENT
ACQUITY UPLC H-Class
ACQUITY UPLC I-Class
Sample Manager - Flow Through Needle PLUS (SM-FTN PLUS)
PROCEDURE
Set a suitable flow rate ~0.6ml/min on the solvent manager to obtain a column backpressure of between 6000-8000 psi.
Perform the Needle Seal Readiness test, you can find this in the ACQUITY console > SMFTN > Maintain > Needle Seal Readiness Test.

Click Start.

Review results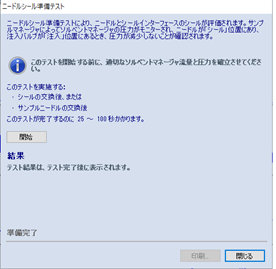 ADDITIONAL INFORMATION
See the video Needle seal readiness test.
A-30SM, UPARHSMFTN, UPIBSM, UPIBSM+, UPISMFL, UPISMFL+, UPISMFTIVD, UPISMFTN, UPISMFTN, UPISMFTN+, UPPFTN, UPQSM, UPQSM+, UPQSMBIO, UPQSMBIO+, UPSMFTN, UPSMFTN, UPSMFTN+, UPSMFTN+, UPSMFTNB+, UPSMFTNBIO