Fatal error, Empower will exit - WKB888
Last updated
SYMPTOMS
User tries to Launch Empower using Quickstart ,the pop up screen initializes and then disappears
User tries to Launch Empower using Pro and then selects Run Samples and gets a Fatal error, Empower will exit

Empower main screen never loads and then disappears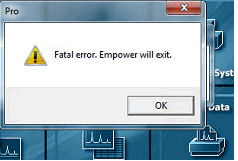 CAUSE
PCS 47875
After installing Empower 3, if you do not change your database password, in approximately 180 days, an Oracle password expiration setting locks all Empower projects and the Oracle accounts Sysman, System, and DBSNMP. The lock temporarily prevents you from accessing these Oracle accounts and opening projects in Configuration Manager.
FIX or WORKAROUND
Upgrade to Empower 3 Service Release 1 ( see link below to download)
Installing Empower 3 SR1 unlocks the locked projects and the Oracle accounts, and prevents this issue from occurring in the future. The passwords for the Oracle accounts revert back to those configured during the Empower 3 installation.
ADDITIONAL INFORMATION